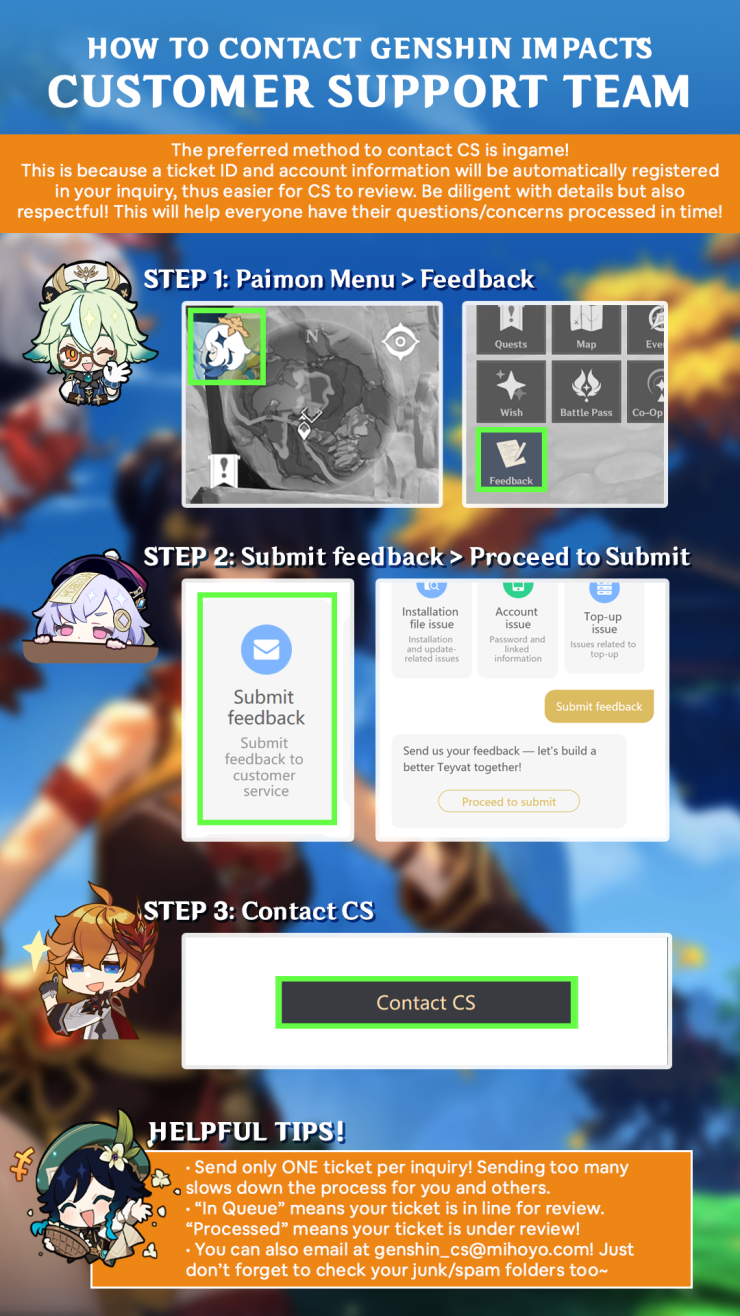 Example templates when Contacting CS
Consider these templates in your ticket; this should help ease the process between yourself and the Genshin Impact CS Team! You can also provide secure third-party links if media capacity is an issue~!
Bug Issues
I found a consistent bug during my gameplay. I attached images/videos to show the example too. It can be reproduced with these steps:
Step 1. xxx
Step 2. yyy
Step 3. zzz
Feedback / Suggestions
I have a feedback for the Genshin Impact team to consider! The suggestion is xxx.
This is a good idea because yyy and zzz. I included images to help illustrate my idea. Thank you!
Payment Issues
I have payment issues regarding xxx. I also attached related images. Thank you for the help!
1. Top Up Channel (Google Play, App Store, MyCard, Worldpay, PlayStation Store, etc.)
2. Order Number
3. Transaction History
4. Bank transaction notification
5. Bank Transaction serial number

Account Issues
I have account issues regarding xxx. I included the information below. Thank you!
• UID/Account Nickname + Server
• Email/Phone the account was registered with
• Other authorized linked information the account was associated with
• Date/Time/Location of your last login
• Authorized device(s) used to access your account
• Authorized transactions including: confirmation numbers, date/time, amounts
• Other proofs of ownership

FAQ
Q1. How can I send an ingame ticket if I don't have access to my account?
We suggest you to make a secondary / temporary account to submit ingame tickets.
Q2. Is support__app__4307@mail.aihelp.net trustworthy?
Yes, this contact will reach to you for specific cases.
Q3. When can I expect a response?
We don't know the exact time frame since they have to process everyone's ticket as well.
But please be patient until they address your case ASAP!
Q4. Can the Moderator Team help me?
They are not able to review or prioritize your ticket. Please understand that the CS Team is eager to help you and asks for your patience so that everyone, including yourself, gets an accurate response. Only the CS Team can help you since they have the necessary tools to do so.
Q5. Do you have advice for me to protect my account?
• Never share your account login
• Never provide third-parties with account credentials
• Never trust unofficial sources
• Never reuse passwords or compromised logins

Customer Support Emails
You only need to email ONCE per inquiry, please. Don't forget to also check your JUNK/SPAM!
English genshin_cs@mihoyo.com
Japanese genshin@mihoyo.co.jp
Korean genshincs_kr@mihoyo.com
German genshincs_de@mihoyo.com
Spanish genshincs_es@mihoyo.com
French genshincs_fr@mihoyo.com
Indonesian genshincs_id@mihoyo.com
Portuguese genshincs_pt@mihoyo.com
Russian genshincs_ru@mihoyo.com
Vietnamese genshincs_vn@mihoyo.com
Payment genshin_payment@mihoyo.com
Account Recovery Process
TIP: Confirm if your account is linked with an email or any trusted third-party account (Twitter, Google, Facebook, Apple). You can review your account settings as well as reset your password on miHoYo's website at (https://account.mihoyo.com/#/login).
I need further help!
If your Genshin account is NOT linked with an email or trusted third-party account, or if neither login attempts work, then please follow the steps below.
Step 1. Send an email to genshin_cs@mihoyo.com with Account Recovery as the subject
Step 2. If sent correctly, you will receive a Form link labeled as Account Retrieval
Step 3. Complete the Form ONCE with accurate and precise information, then submit
Account Recovery FAQ
Q1. Will sending multiple responses speed up the process?
No.
Q2. I don't remember or have information available for certain questions. Can I skip them?
Answer ALL questions best to your ability. Do NOT leave questions blank.
Q3. When should I expect follow up after I send the form?
Hopefully within 10 working days!
Make sure to check your SPAM/JUNK folder too when awaiting for a response!
Q4. I found "Help Groups" that claim they can help with my process. Is this true?
We advise you to NOT disclose your personal information with unofficial persons/groups. Your ticket should ONLY be handled by official Genshin Impact's Customer Service representatives.
Q5. Can I have an example of what my sent email should look like?

Quelle: https://www.hoyolab.com/genshin/article/202963